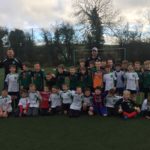 U7s – 10s
On what was a most beautiful day, Fenit Samphires U8s and 10s travelled to Listowel Celtic last Saturday the 18th. The skill level and confidence is growing each week and everyone is contributing to the team spirit and having plenty of fun.
Our U8's really enjoyed themselves and had a lot of possession to finish level pegging by the end of proceedings. Both teams played with such great effort and it is a credit to the coaches of both teams to have such high skill levels on show.
The U10's are getting stronger and stronger as the season progresses with what is now a trade mark defensive structure. With such a good foundation at back, the forwards enjoyed their day with plenty of goals. A big thanks to Listowel for hosting us. Back to training next week before we travel to Limerick to take on Abbeyfeale in another friendly.
Under 16s
Fenit Samphires 0 – 2 Killarney Athletic
We were beaten 2 nil in the first round of the Tucker Kelly Kerry U16 Cup last weekend after a very tough match that was alive right to the end. We conceded twice early on to the team who are top of Division 1, but we kept on going right to the end showing great character. We held our own for the rest of the match and the team is improving from game to game. Well done to all our players on the day.
U12s
Our 12s had a good victory over Killarney Celtic B at the weekend in our pitch in Fenit with Tiernan O'Sullivan (2), Oisin McGibney (2), Cian Mason (2), Billy Doyle, Donagh Murphy and Gearoid O'Connor all scoring. Well done to all the players, managers and coaches – keep up the great work both in training during the week and in the matches that follow.