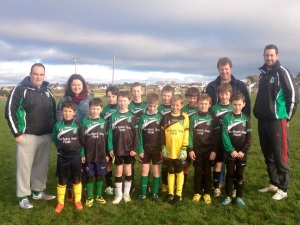 Firstly on behalf of the club I would like to thank the O Neill family for proudly sponsoring our new U11 jersey's.
Our U11 team where at home on Saturday against Castleisland. In a game where we started very well and dominated the entire first half we found ourselves on the losing side in the finish.
From the kick off we played excellent putting Casteisland under constant pressure. Our man marking and passing was much improved from our previous game. As a result of great play from Fenit we scored two goals in quick succession. Some great finishing from Paddy Falvey and Ròn O Neill made it 2-0. Towards the end of the first half Castleisland were awarded a penalty and was scored to put only one goal between us in a very one sided first half. We could not convert enough goal scoring opportunities from our possession and this eventually cost us.
The second half started more evenly and Castleisland we allowed too much space and got back on level terms. In fairness to our lads there ran themselves into the ground but with about ten minutes left in the game this began to show as Castleisland found it all too easy to to score two late goals.
Our boys can feel proud as each and everyone gave a solid performance.
Training will resume again this Wednesday night.