On Saturday 1st October we played in the 2nd round of the National Cup at home against Templemore, who had won the North Tipperary Premier League last season. The weather conditions were ideal for football, with no Sun, wind or rain. The game started with both sides having plenty of possession. In the first half Fenit defence showed they were more than a match for Templemore giving them very little opportunity to strike. In contrast our mid-field were combining well with our strikers. The Templemore were finding it difficult to cope with our quick passing across their defence. Serviced from our wide players Jason and David, our strikers of Christopher & Aran created a number of opportunities, with one hitting the bar & another just wide. However, the score remained 0 – 0 at halftime. The Second half started again with both sides defending well to cancel out each other's attack. About fifteen minutes in we decided to introduce our substitutes. Whilst re-organising we failed to clear the ball properly, gifting the Templemore mid-field with possession and time to shoot and score. This galvanised Fenit into making a number of attacks but were thwarted by a strong Templemore defence. As we pushed forward in an attempt to equalise we were caught out again at the back with another goal for Templemore. With about 5 minutes to go this left us time for a couple of gallant attempts at goal from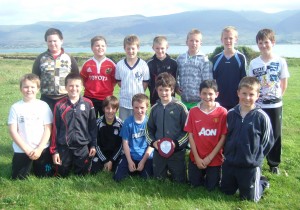 Eoghan and Cormac. Unfortunately we run out of time and the final score was 0 – 2 to Templemore. Well done to the Fenit team who all played very well. If we can play the same in our upcoming Premier League matches then we can look forward to a great season ahead. Thank you to all parents for their support on the sideline and also those who were able to provide food and refreshments for the occasion.
Fenit squad were Brian O'Regan, Ciarán Carmody (Captain), Eoghan McElligott, Sean Donnellan , George Downing, Cormac O'Brien, Liam O'Donnell , Jason Mortimer, David Lenihan, Christopher Murphy, Aran Egan, Ciaran Murray, Austin Clifford, Padraig O'Mahony & Colm Healy.